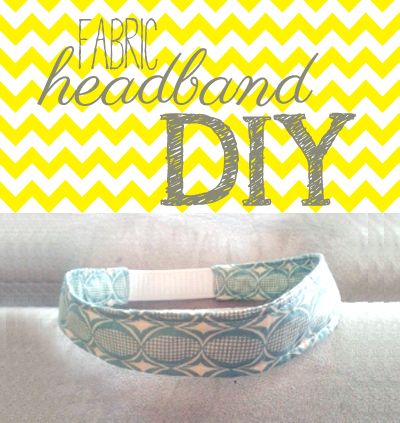 Hi! I'm Jessica and I blog over at
Punk Rock Twins
and I'm a small business owner over at
Punk Rock Twins
on storenvy
. A little background about me. I taught myself how to sew in 2009 right after my last child was born. I wanted to create something with my hands and needed an outlet to do that. I had always liked fabric and loved the idea of sewing so I bought myself a Little Brother Sewing Machine and started to teach myself the basics. It took some trial and error and eventually I felt like I got pretty good at it. I have sewn many things including burp cloths, wash cloths and wipes, robot stuffed toys, kitchen napkins, blankets and pillows, and headbands and skirts. I enjoy sewing and I enjoy making my own patterns for my sewing.
I feel like if you're going to do something then you have to do it full force. So with that said I'm going to offer you a DIY on how to make a headband. It's a simple project, it can be done with little tools but it can create big changes in your appearnace.
1) Gather your supplies. You will need 2 fat quarters of fabric in coordinating colors for the reverse of the headband or one fat quarter of the same color for both sides. Now, if you don't know what a fat quarter is it is just a little bit bigger than a quarter of a yard. Generally you can purchase them at local stores or online.
You will also need a 6 inch piece of 1 inch elastic to put between the two sides of the band to extend it to the size needed.
2) Measure out your fabric to equal 18 inch long and 4 inches wide. This can be done in one of two ways:
1. By folding the fabric in half and measuring out
9 inches from the fold being sure not to cut the fold.
2. By measuring out an 18 inch strip. You will need to
make sure you have two strips for this project.
Once you have that you will put the front of the two strips facing each other so that the inside of the fabric is facing out side as shown.
a the view of the outsides together before turning them right side out.
3) Pin those two pieces together and sew around the sides but not on the bottoms of the headbands. When you begin sewing you will back stitch at the beginning and the end to lock the stitches in.
4) Once you have the two longest sides sewn you will turn it inside out and get ready to add elastic.
5) Fold under the ends towards the inside to make a seam and insert the elastic into each end and attach with a pin.
6) Sew on one end locking the elastic into that end and sewing all the way down the edge of the headband until you get to the other end. Making sure the elastic is inside of the end, you will then sew that piece together as well and continue on until your stitching meets back at the beginning making sure to double stitch at each elastic piece and the end and the beginning.
Once this is completed you are done sewing and you have your very own handmade fabric headband!
* This is a sponsored post was written by Jessica from Punk Rock Twins. If you are interested in writing a guest post or tutorial, please visit my sponsor page for details.